North Dakota Association of Elementary School Principals Conference
February 15-17, 2023
Radisson Hotel 605 E Broadway Ave, Bismarck, ND 58501
A conference tailored for North Dakota's elementary school principals. This event provides a deep dive into their job description, an opportunity for attendees to network, receive professional development specifically for their career track, solve issues as a collective, and have community in their work. Elementary principals take pride in contests and personalization of their conference. Theme days are encouraged by the region that plans the conference activities for the year.

** Must Attend Wednesday evening, Thursday and Friday sessions to receive graduate credit.**
NDAESP Member - $250.00
Non-NDAESP Member - $300.00
NDAESP Retired/Aspiring Principal - $125. 00
Graduate Credit
If you register for graduate credit at the NDAESP Conference you MUST:
** Must Attend Wednesday evening, Thursday and Friday sessions to receive graduate credit (ALL sessions)

Scan/check in EACH day.

Complete the survey after conference (link will be in conference program and go out via email after the conference)

MUST sign up for credit before the conference is over, no late add-ons for graduate credit.
Check your licensure requirements before the conference – we will have the ability to sign up for graduate credit at the conference, until noon on Friday, but not after the conference is over.
$45 by check and $47 by credit card.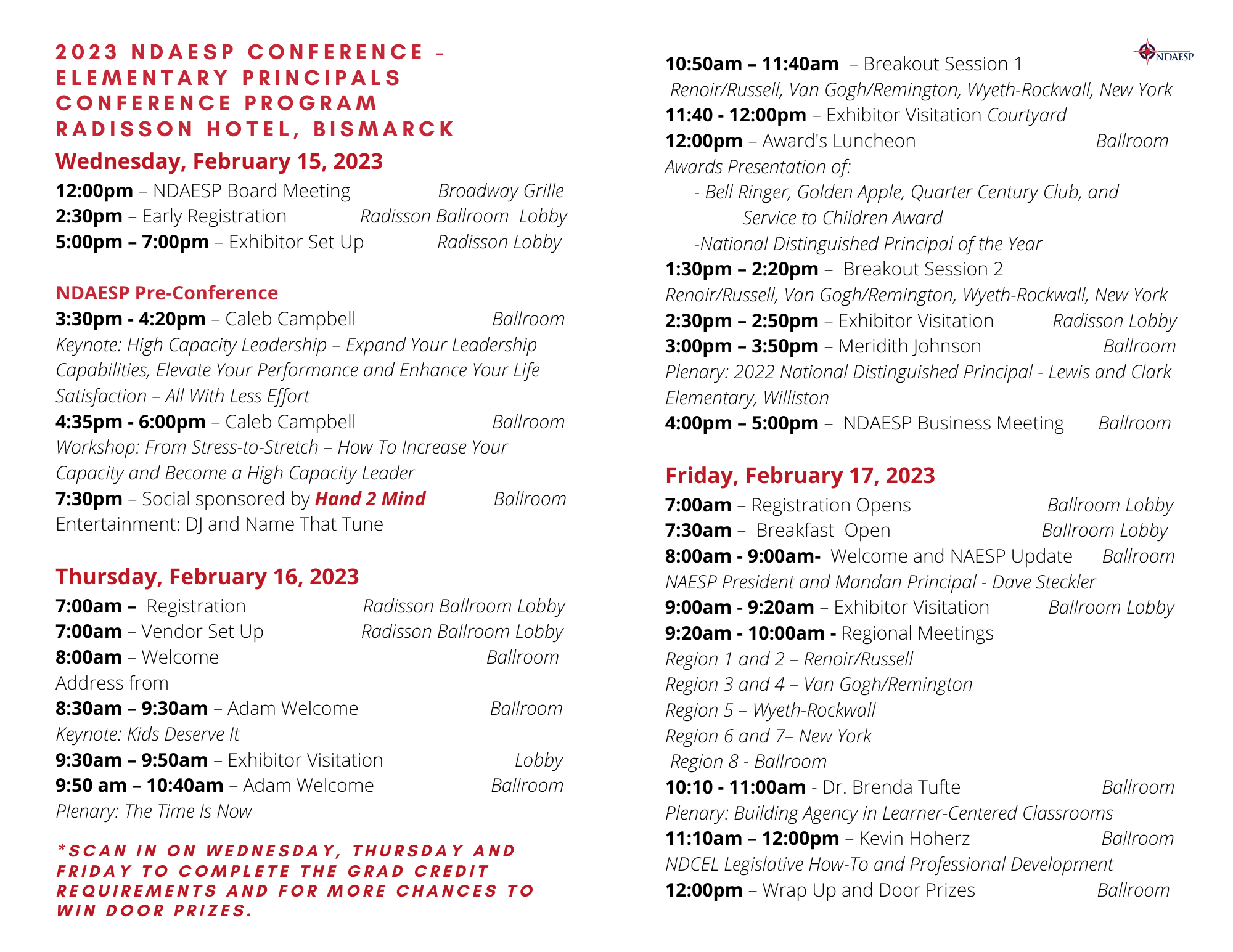 To begin registering, please click on "Register Yourself" (do not click on the submit button until you have completed registering).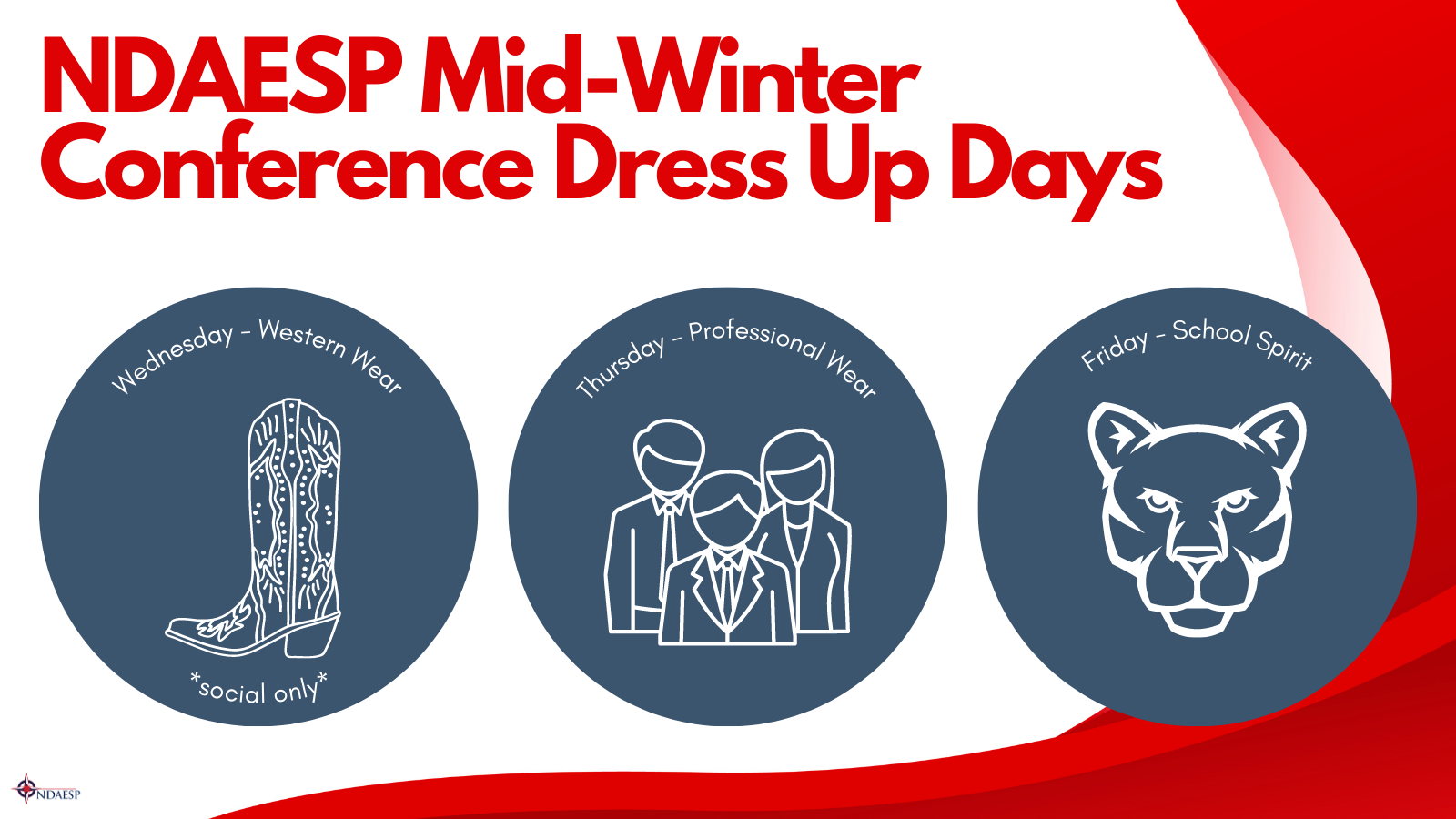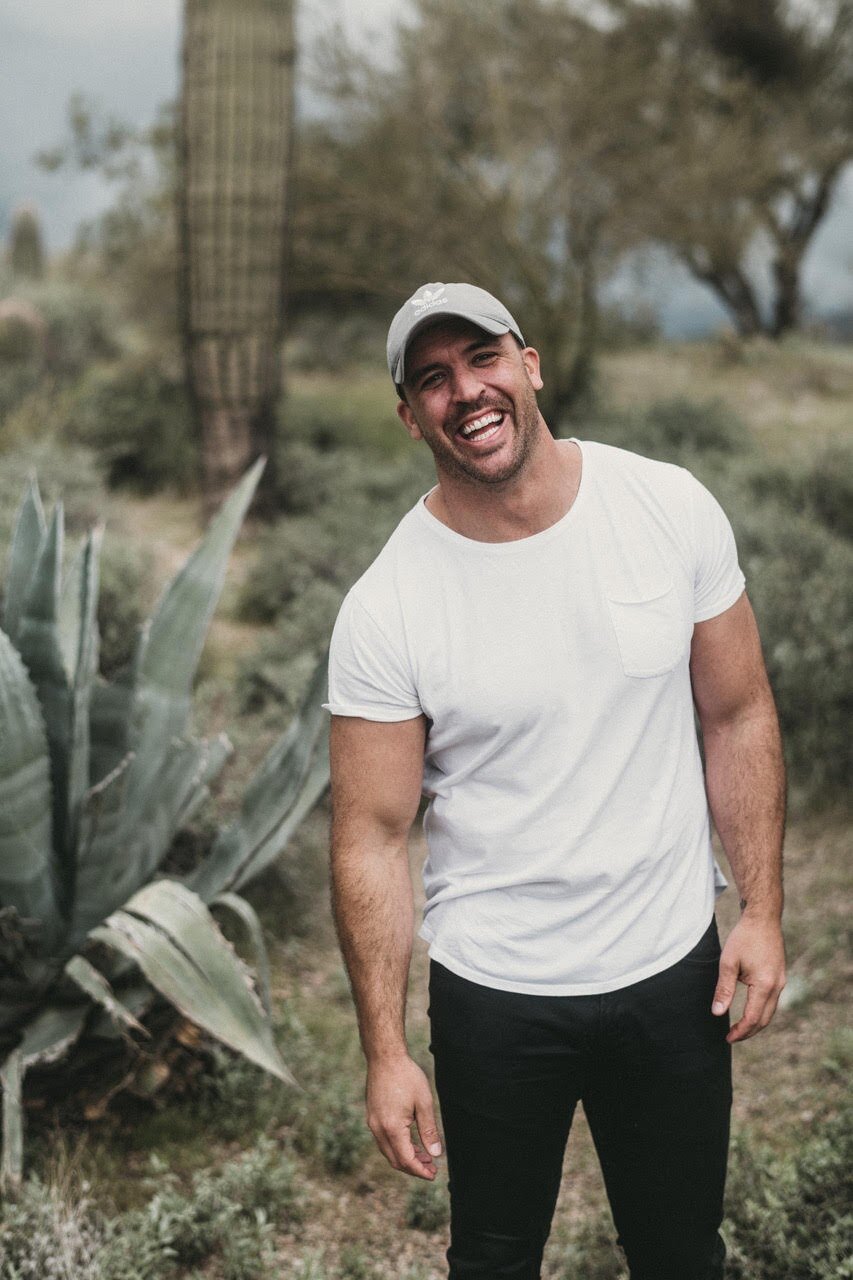 Hi, I'm Caleb!
As a West Point graduate, former Army Officer, and Ex-NFL Linebacker, I've always had an inner drive to make something of myself—not to just reach my goals—but to surpass expectations.
But despite my ambition, determination, and relentless pursuit of success, where I was never measured up to where I wanted to be. Eventually, I found myself the type of tired that more sleep doesn't solve.
I share this in common with many of the leaders I work with today.
They want to exceed expectations. They want to maximize the potential of everyone on their team. They want to perform at the highest level. But, they feel maxed out in their capacity.
Deep down, they know that more is available but trying to access the new in an old way no longer works.
And that is why it's my deepest passion to share a message that helps leaders unlock the answer that's been with them all along. Because I believe that every leader has a deeper, more powerful capacity they haven't accessed yet.
But when they do, everything changes.
Keynotes and training that result in high-capacity leaders and exceptional work environments. Go here to learn more about Caleb.
Keynote: High Capacity Leadership – Expand Your Leadership Capabilities, Elevate Your Performance and Enhance Your Life Satisfaction – All With Less Effort
Right now, in the face of Quiet Quitting, the Great Resignation, and unprecedented levels of burnout, leaders are facing unparalleled challenges. And as a result, leaders are being asked to expand their leadership capabilities unlike ever before.
In other words, what once worked—no longer works.
Times are changing and the old way of doing things—the striving, surviving, and white-knuckling your way through life—has left leaders outstretched and with no capacity. And when leaders don't have capacity, they live disconnected from themselves, their lives, and those they are leading.
This growing sense of disconnection is taking a toll on their performance, their self-confidence, their ability to grow through change as well as their mental and emotional wellness.
There has to be another way.
In this thought-provoking and deeply inspiring keynote, Caleb Campbell takes the listeners on transformational journey and offers them the step-by-step process of they shift from the old way of doing things and step into a new way — The Way High Capacity Leadership
With the use of storytelling, modern science, and ancient wisdom, this moving and transformational speech helps leaders take burnout off the table for good and access all of the latent confidence, brilliance and energy that has been buried inside of them all along.
Caleb's candid approach to vulnerability woven through his storytelling will not only keep audiences engaged from start to finish but offer them the answer to one of the biggest questions of our time.
How do we unlock the more we know we're capable of but when we have nothing left to give?
You'll laugh, you'll cry, and you might even want to run through a brick wall, but more than anything, you'll walk away with a process that will bring you back to your power as you increase your capacity, expand your leadership capabilities, elevate your performance and enhance your overall life satisfaction — all with less effort.
Workshop: From Stress-to-Stretch – The Framework To High Capacity Leadership
Most leaders have been doing as much as possible for as long as possible and they feel maxed out. This is a real leadership challenge that we are facing. Because when we as leaders outstretch our capacity, it has a direct impact on our relationships, our performance, our teams and our overall sense of self.
From Stress-to-Stretch helps leaders move from stress to stretch so that they can increase their inner capacity and expand their leadership capabilities.
With this framework, the very moments that leave you feeling so outstretch now will become the moments that propel your leadership capabilities, your performance and your life forward.
Watch you and your team walk away with a far greater resiliency in dealing with new challenges and become more confident, capable and courageous in their leadership.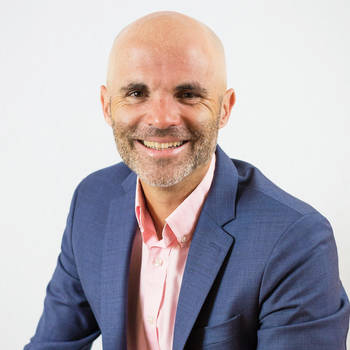 Adam was Principal of the Year for his region in California, a 20 To Watch for the National School Board Association, guest blogger for EdWeek, NAESP magazine, and many other publications. Adam also consults and works with many education companies as a way to improve their product for others!
Adam is passionate about technology integration with all educators and a huge advocate of social media and connecting with other educators from across the country. Adam makes it clear that kids come first and has preached the message of Team Kid for many years.
He is also the co-founder of Kids Deserve It and author of four books. (Kids Deserve It, Run Like A Pirate, Empower Our Girls and Teachers Deserve It)
Adam has an amazing wife and two young children that keep life at home exciting and active. Adam also loves to run and has completed 30 marathons.
Keynote - Kids Deserve It
Kids Deserve It is a simple yet profound message and it's time that we all join the conversation! Connect with kids, integrate innovative new technology practices into your curriculum that students will love!
• Rediscover the power of literacy and how it changes lives!
• Create content with students and for your school on YouTube and podcasts to create a culture and climate that the entire community wants to be a part of!
• Come up with a plan to facilitate coding with your students to get them ready for all the opportunities that are currently available in our world.
• And, remember why you got into this profession and also how important your own family is. If we don't take care of ourselves, we're not going to be any good for our school team.
No more excuses, it's time to start making it happen for your students, staff, parents and entire community - I know you can do it and I can't wait to help you make it happen!

Breakout Session - The Time Is Now
Stop talking about what you want to do and start doing what you want to do, the time is now. We're going to dive deep, we're going to get personal, we're going to make some changes. You're going to walk away with strategies that will help you focus on what's most important, and a plan to implement those strategies with your team for bigger results! You're going to laugh, you're going to think, you're going to be challenged, you're going to realize that you have what it takes, who's ready!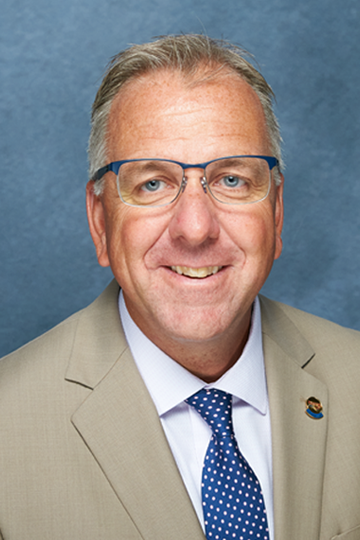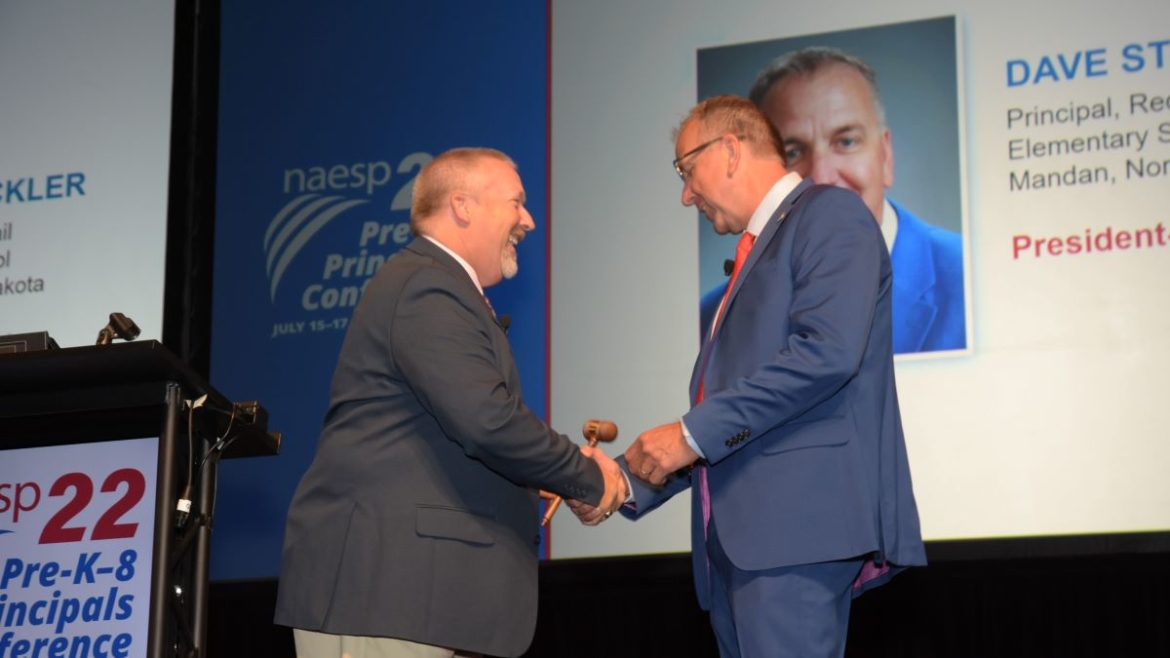 Dave Steckler is the principal of Red Trail Elementary School in Mandan, North Dakota. He is the 2022-2023 NAESP president.
Prior to being selected to open Red Trail Elementary School (RTES) eight years ago, Dave Steckler had been principal of three other elementary schools, two of which he led while simultaneously serving as a classroom teacher. In these roles, Steckler gained significant experience securing and leveraging Title I funds to improve instruction through supportive programming and research-based best practices. As a result, he has led each of his schools in meeting the complex needs of at-risk students, helping them achieve their academic potential but also develop a sincere love for learning. As testament to Steckler's commitment to improving achievement in high poverty schools, Hagan Elementary School was selected as a National Distinguished Title I School and a National Blue Ribbon School.
Steckler has since channeled his experience with program implementation to establish a strong professional and learning culture at RTES. There, he has led the integration of STEM and project-based learning, among other initiatives, and has overseen a building expansion.
Throughout his career, Steckler has served on a variety of state, local, and national committees and boards, work which he credits with his growth as a leader and values as a contribution to the broader betterment of public education. He holds a Master of Science in Educational Administration from Moorhead State University and a Bachelor of Science in Elementary Education from Dickinson State University.
A member of NAESP for 25 years, Steckler has long been a volunteer leader with the association. He served as zone 7 director, from 2015-18.
Plenary: The Value of Everyone
Stories have the ability to take events of our lives - - big, small, grand, or trifling which defines who we become.
How many hundreds, thousands of stories can you tell from a day, an hour, a relationship, an encounter? How many different stories can we tell from the same memories, from the same life?
It is okay to build a platform for others to share their stories to help understand why welcoming diversity of thought and experience will make leaders a stronger, more empathetic leader.
Develop a stronger perspective as a leader by understanding the voices and stories of others. Become more empathetic to other peoples struggles.
How have your experiences defined who you have become?
I will discuss the importance of sharing personal stories to overcome what we are going through now as well as how it can become part of someone else's survival guide.
Dr. Brenda Tufte is a Professor and Chair of Graduate Education at the University of Mary in Bismarck. She has taught in higher ed for 12 years and prior to that, taught in K-12 for 23 years in Minnesota and North Dakota and is the 2012 North Dakota Teacher of the Year. In 2017, she received the Crystal Apple Outstanding Post-Secondary Teacher and has written and presented extensively on differentiated instruction, personalized learning, engagement, literacy, assessment, and educational neuroscience. Her book, "High-Impact Educators: How Graduates Describe Their Best Teachers" was co-authored with Dr. John Tufte and published in 2021 by Rowman and Littlefield.
Plenary: Building Agency in Learner-Centered Classrooms
Teachers can foster learner agency utilizing simple strategies that have big returns. Improvements in academic outcomes, motivation, self-regulation, and transfer of knowledge to new settings result when students take ownership of their learning. In this session, educators will learn more about the evidence-based strategies that elicit the vital components of curiosity, engagement, grit, reflection, and self-efficacy.