2021 NDCEL Fall Conference
Last year was a year of rising to new challenges.
Now it's time to keep climbing.
Oct. 20-22, 2021 - Event Center, Bismarck
October 21-22, 2021 - LIVE and IN PERSON
All sessions (except the Keynotes) will be recorded and available to re-watch after the event
October 27, 2021 - April 30, 2022 - Recorded Conference
NDCEL has expanded our Fall conference to include school leaders, administrators, teachers, instructional staff, counselors, social workers, Title1, or special education personnel! We are striving to provide national quality professional development tailored to North Dakota's educators.
This recorded portion of this conference will be hosted on the NDCEL canvas, utilizing zoom. You will receive an invite for the canvas course and sessions will be available the week after the event through April 30, 2022.
University of Mary Graduate Credit
NDCEL 2021 Fall Conference offers the opportunity to receive one (1) graduate credit. Graduate credit will work differently this year. Every individual who wants to gain University of Mary graduate credit will need to register individually. All attendees will be required to complete the canvas course to receive the credit, whether they attend the in-person or recorded sessions.
General Topic Areas include (a solidified schedule and session descriptions to come!):
Leadership
SEL/Behavioral Health
STEM/STEAM
School/Community Relations
MTSS, Culture/Climate
Engagement, Instructional Strategies
Regulations/Policies
Innovation
Personalized Learning
Open Educational Resources (OER)
Standards-Based Grading
Technology
Literacy
Choice Ready
Interested in leading a pre-recorded or live breakout session?
Go here for the call for proposals.
Here are the Fall Conference registrations. Please read carefully and register with the correct form:
2021 Fall Conference DISTRICT/GROUP Registration ***Please use this Excel spreadsheet to send to NDCEL. The Excel spreadsheet is due by October 11, 2021. Please do not send us this sheet before everyone is back in the building as it will likely change.
2021 Fall Conference Graduate Credit - University of Mary Registration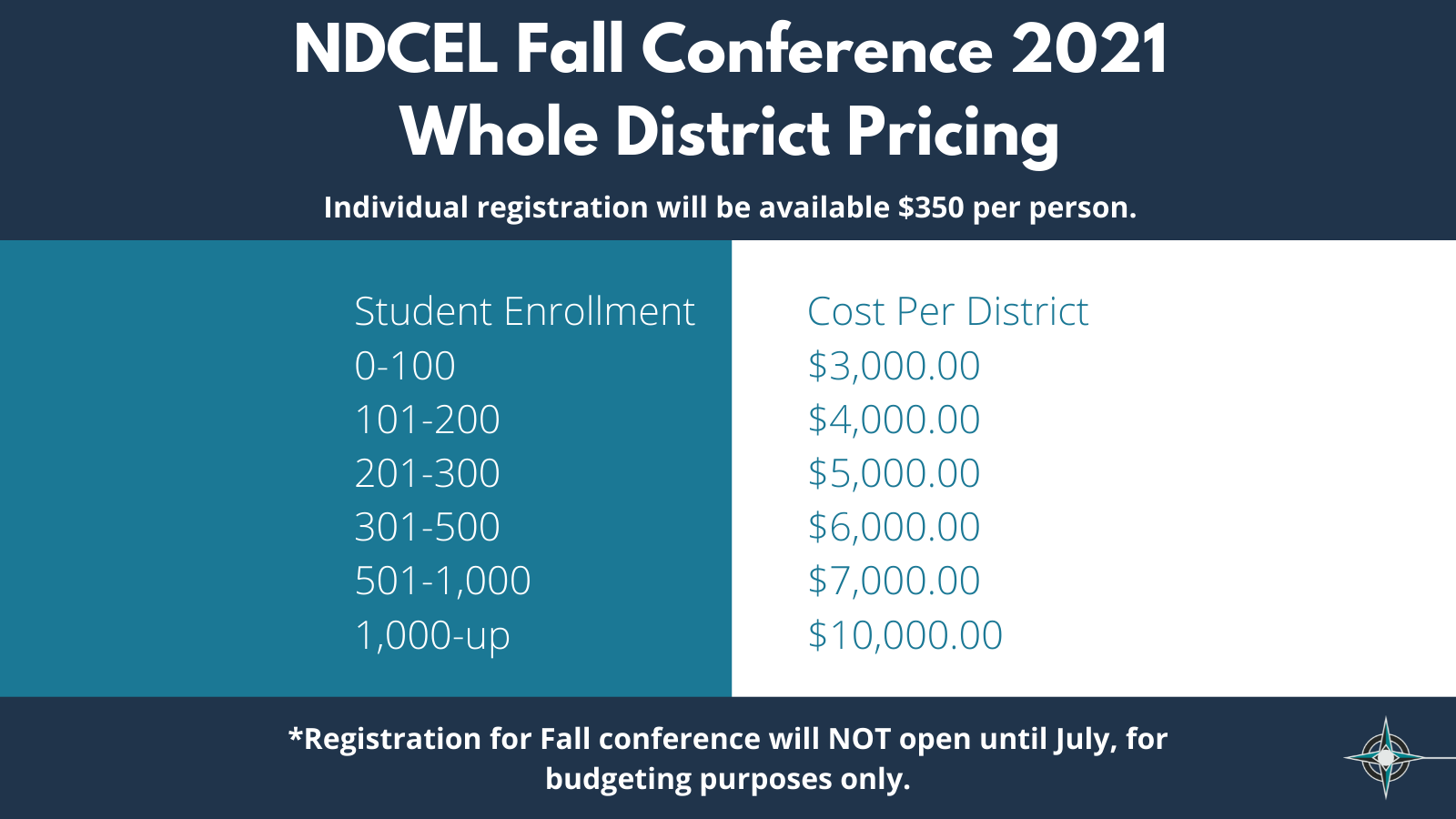 District Registration pricing is based on your schools' student enrollment. After registering your entire district, you will be required to complete an excel spreadsheet with all attendee's contact information and whether they will attend IN PERSON or only viewing the RECORDED CONFERENCE. (NDCEL will provide.) This spreadsheet will be due by Monday, October 11th, 2021. We understand that you will not know the attendance of your staff until closer to the date.