2021 NDCEL Fall Conference
Last year was a year of rising to new challenges.
Now it's time to keep climbing.
October 27, 2021 - April 30, 2022 - Recorded Conference
Wait! There is still time to register for Fall conference!
We will have recorded all of the sessions that took place at the 2021 Conference. We have uploaded all of the sessions to be viewed through Canvas. If you would like to earn conference credit and receive graduate credit from UMary, call the office at 701-258-3022 to register for the conference and be added to our virtual conference platform and register for credit below.
2021 Fall Conference Schedule and Breakout Descriptions
Todd Whitaker, Kari Yates, and John and Brenda Tufte's keynotes are recorded and available until November 1, 2021. All of the Breakout sessions at the conference will be recorded and available along with the pre-recorded sessions to view from October 27, 2021, through April 2022.
University of Mary Graduate Credit
NDCEL 2021 Fall Conference offers the opportunity to receive one (1) graduate credit. Graduate credit will work differently this year. Every individual who wants to gain University of Mary graduate credit will need to register individually. All attendees will be required to complete the canvas course to receive the credit, whether they attend the in-person or recorded sessions.
To complete grad credit you must answer the discussion question associated with every session you watch. You must watch 15 hours of sessions and answer 15 discussion questions to receive 1 graduate credit.
How to access your transcript from UMary
To register for the Fall Conference, call the NDCEL office at 701-258-3022
2021 Fall Conference Graduate Credit Registration - University of Mary Registration
General Topic Areas include:
Leadership
SEL/Behavioral Health
STEM/STEAM
School/Community Relations
MTSS, Culture/Climate
Engagement, Instructional Strategies
Regulations/Policies
Innovation
Personalized Learning
Open Educational Resources (OER)
Standards-Based Grading
Technology
Literacy
Choice Ready
Cost:
Cost for Fall Conference Attendance:
$350.00 paying with a check
$375.00 paying with a card (5% processing fee)
Cost for University of Mary Grad Credit:
$45.00 paying with a check
$47.25 paying with a card (5% processing fee)
If you would like to register your entire district, call or email Sammy Vander Wal for the special registration link and instructions. sammy.vanderwal@ndcel.org.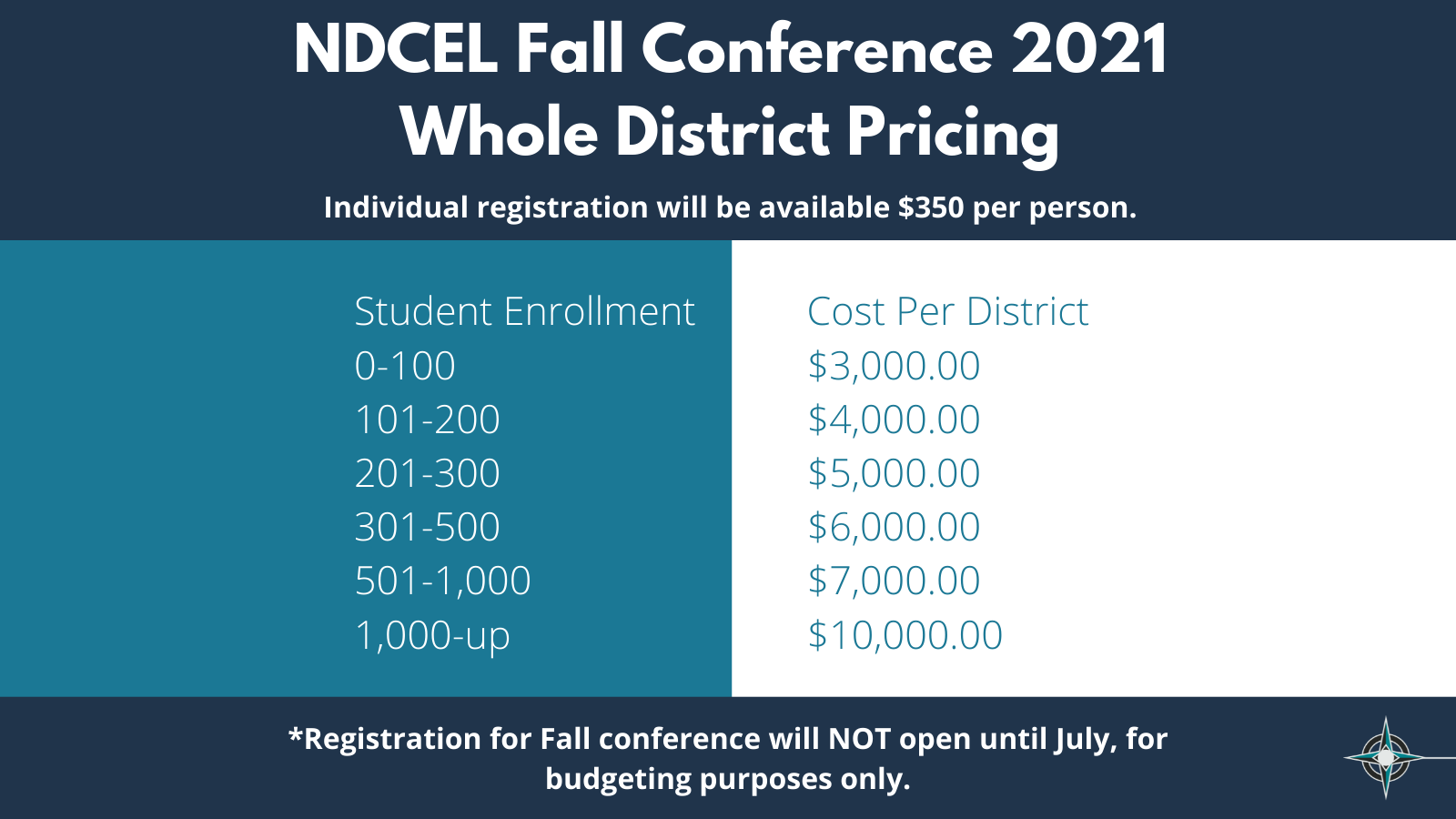 District Registration pricing is based on your schools' student enrollment. After registering your entire district, you will be required to complete an excel spreadsheet with all attendee's contact information and whether they will attend IN PERSON or only viewing the RECORDED CONFERENCE. (NDCEL will provide.) This spreadsheet will be due by Monday, October 11th, 2021.
IF YOU ARE NOT REGISTERING YOUR WHOLE DISTRICT, EACH INDIVIDUAL WILL NEED TO FILL OUT THE INDIVIDUAL ATTENDEE FORM. THE BUSINESS MANAGER THEN CAN SEND NDCEL A CHECK WITH ALL OF THE INVOICE NUMBERS ON IT.