Professional Development brought to our members at a time when life isn't as hectic, Summer! It is a great get-together after the school year to learn and unwind with fellow educational leaders. This conference is filled with professional development and fun. Join us for a well-attended golf tournament for the attendees with exhibitors at each golf hole and a steak fry to follow.
Legacy High School
3400 E. Calgary Avenue, Bismarck, ND 58503
June 20-22, 2023
Click here to see the full schedule, breakouts, and keynotes.
Tuesday, June 20th -
12:00 PM – Lunch Available for all attendees sponsored by McGough Constuction
1:00 PM – Keynote: Auditorium – Mitch Reed
2:00 PM - Workshop - Mitch Reed
2:50 - 3:10 PM – Afternoon Refreshments
3:10 - 4:00 PM - Break Out Session 1
4:10 - 5PM – Break Out Session 2
5:40 PM – Supper and Larks game – Bismarck Municipal Ball Park – Fireside Tailgate Deck
Supper available from 5:40pm-7:10pm, First pitch at 6:35pm
Wednesday, June 21st-
7:00 AM – Registration and Breakfast sponsored by ICON Architectural Group
8:00 AM – Opening Remarks
8:00 AM – Legislative Update - Dr Aimee Copas and Kevin Hoherz
9:00 - 9:35 AM – Round Table 1
9:40 - 10:15 AM – Round Table 2
10:20 - 10:55 AM Round Table 3
11:05 AM - Keynote: Auditorium – Monsignor Shea
12:00 PM – Change and get ready for golf!
12:30 PM – Boxed Lunches sponsored by STOPIt Solutions – Prairie West Golf Course, Mandan ND
1:00 PM – Golf tourney – Prairie West Golf Course, Mandan ND
5:30 PM – Social and Steak Fry – Prairie West golf course, Mandan ND
Thursday, June 22nd-
7:00 AM – Registration and breakfast sponsored by ICS
8:00 AM - Eddie Slowikowski- General Session sponsored by Herff Jones
9:00 AM - 9:50AM - Breaout Session 3
10:00 AM - 10:50AM - Breakout Session 4
11:00 AM – Keynote – Auditorium - Jamie Valderrama - Life 101
12:00 PM - Door Prizes and Closing Remarks
Board Meetings (FOR BOARD MEMBERS ONLY):
Tuesday, June 20
9:30 AM – B109-B111 – NDCEL Board Meeting
10:30 AM – Auditorium – All Boards Update – NDCEL, NDASA, NDASSP and NDAESP
11:30 AM – Separate Board Meetings
B108 – NDASA
B112 – NDASSP
B114 – NDAESP
B109-B111 – NDSOS
Graduate credit will be available through University of Mary. *You are not required to take part in the Lark's Baseball game, golf scramble or steak fry UNLESS you are taking the NDCEL Summer Conference for University of Mary Graduate Credit. To obtain graduate credit, you are required to attend and check in at either 1) Bismarck Larks' game, 2) Steak Fry, or 3) Book study
Register on the conference registration form below.
You are able to register for graduate credit, the Larks baseball game, and the golf tournament on the registration form below.
Member Pricing - $275.00
Non Member Pricing - $325.00
Bismarck Hotel – Formerly Ramkota – block of state rate rooms Address: 800 S 3rd St, Bismarck, ND 58504 Phone: (701) 660-8063
Baymont Inn and Suites, Mandan- open block of state rate rooms Address: 2611 Old Red Trail, Mandan, ND 58554. Phone: (701) 663-7401
Everspring – block of state rate rooms Address: 200 E Bismarck Expy, Bismarck, ND 58504. Phone: (701) 222-2900
Hampton is has rooms, just no longer state rate available - Address: 2020 Schafer St, Bismarck, ND 58501. Phone:(701) 751-5656
Fairfield Inn & Suites Bismarck South - Address: 135 Ivy Ave, Bismarck, ND 58504. Phone: (701) 223-9293 $88.20 per night
Fairfield Inn & Suites Bismarck North - Address: 1120 E Century Ave, Bismarck, ND 58503. Phone: (701) 223-9077 $88.20 per night
Ask for NDCEL Summer Conference.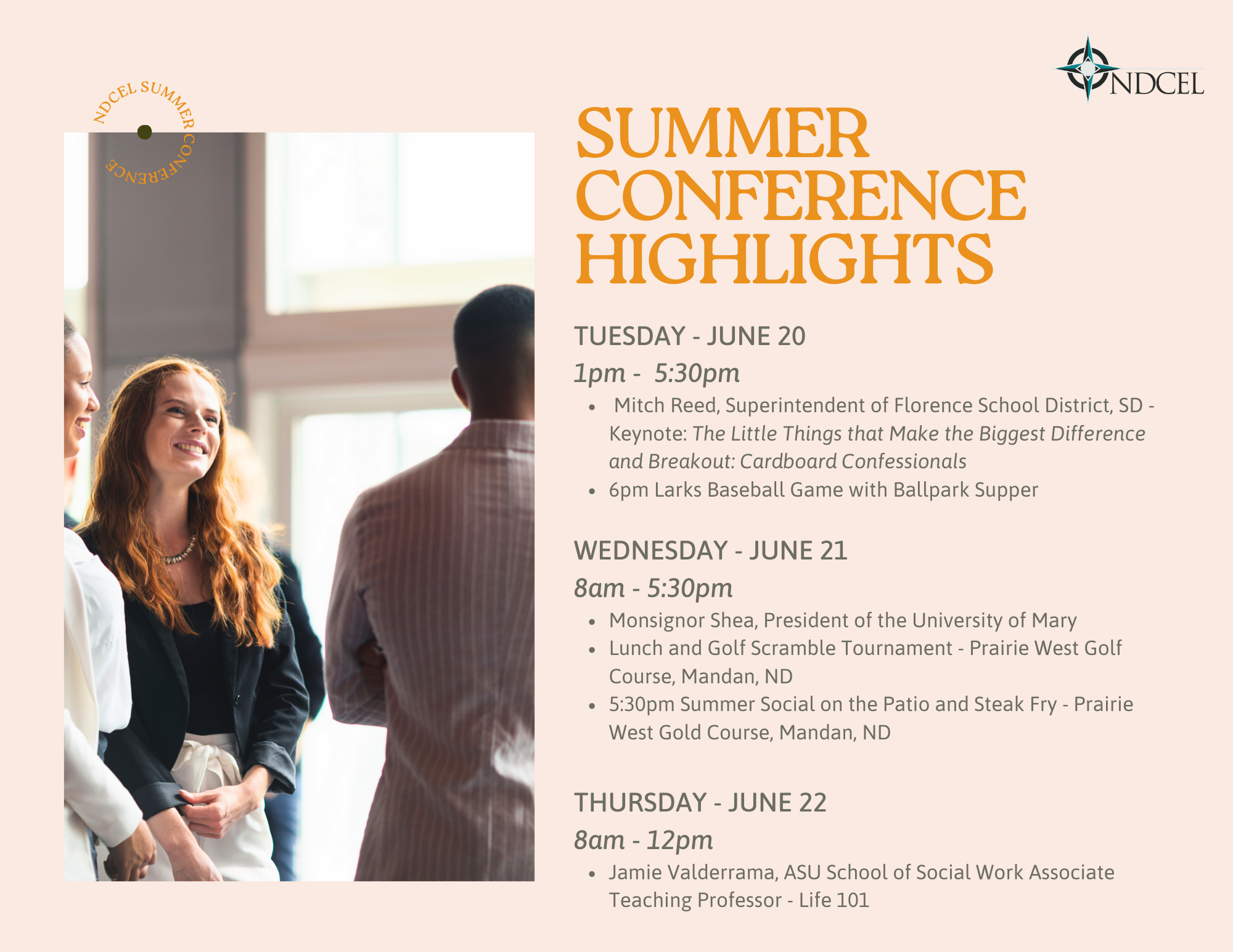 Summer Conference Keynotes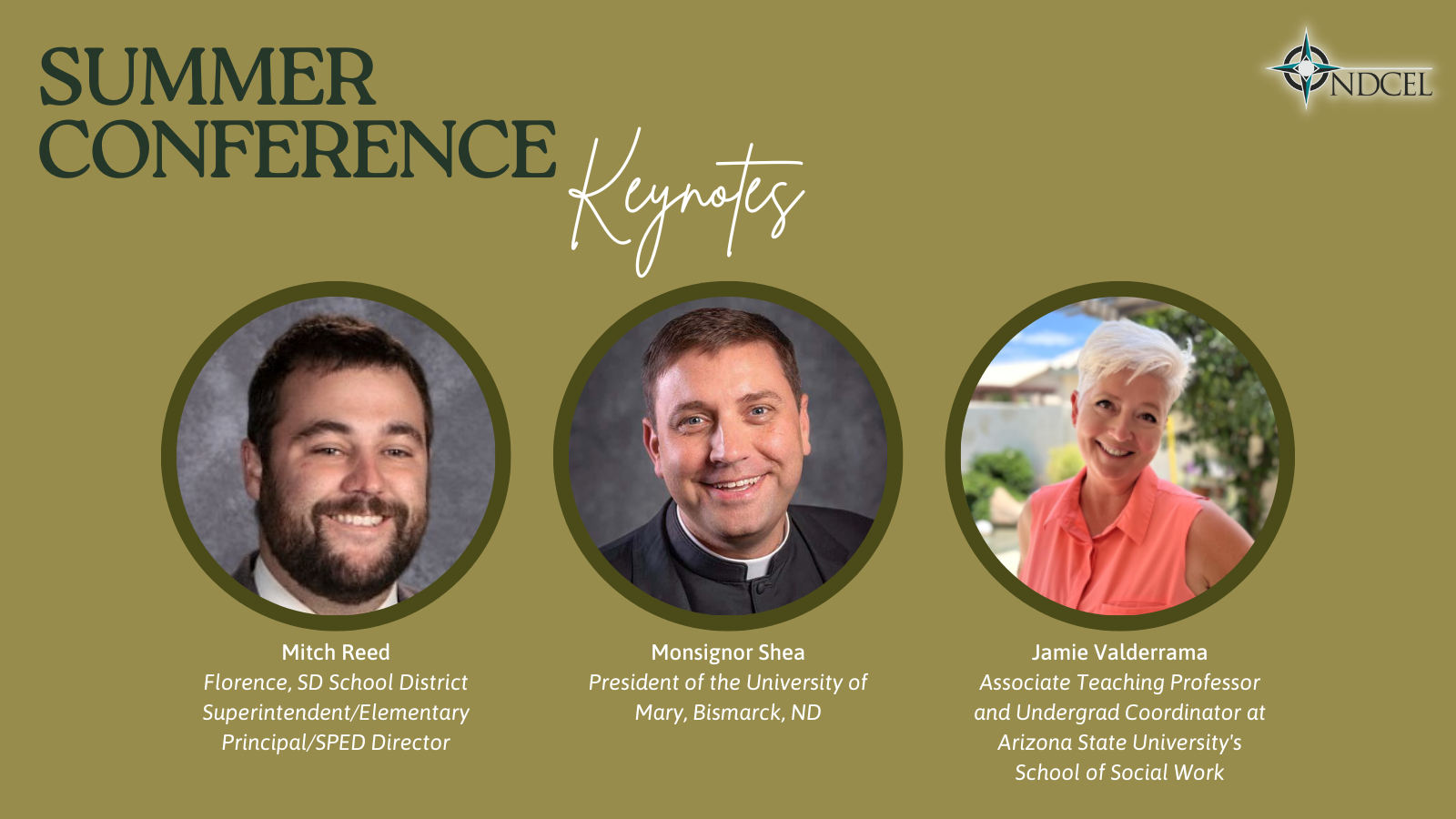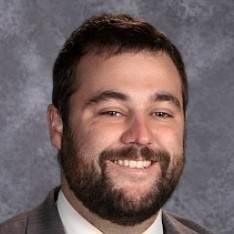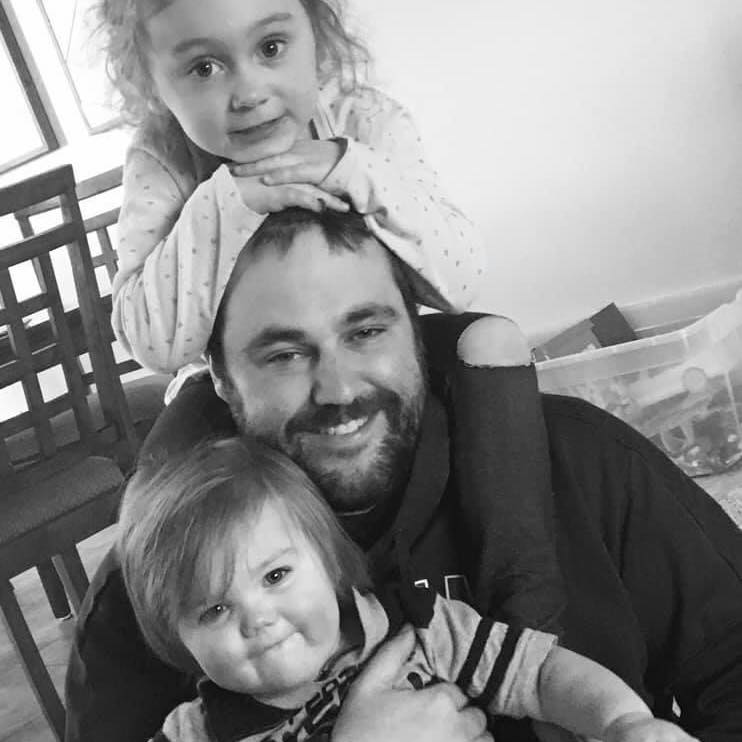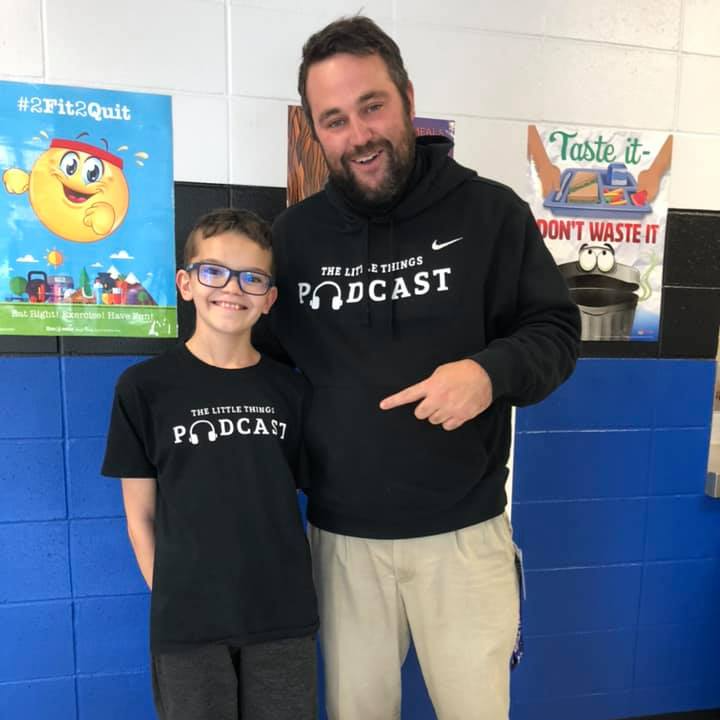 Mitch Reed is currently the Superintendent of Schools in Florence SD. His wife Shari and his three children live in Watertown. Mitch has a strong passion for kids and building relationships with them. The Cardboard Confessionals project allowed him to build even stronger relationships with the students he worked with. He learned a great deal about how past experiences and backgrounds play a role in everyday living. It also allowed him to look at my life and evaluate his priorities. This journey of sharing his message has been a great one. Mitch has met many strong people along the way that deserve all the credit in the world. The first step to helping those in need is to understand what they are going through and appreciate their strength!
The Little Things that Make the Biggest Difference - Keynote
Healthy and genuine relationships are what build a solid foundation for a bright future. This presentation focuses on personal stories and messages that reinforce the importance of relationships and the power that lies within each of us. We discover the five most influential people in our lives and how they came to be. We discuss the little things in life and how taking advantage of those can make all the difference. The first step to helping those around us is to appreciate their strength and understand what they are going through. By doing this, we can empower them to support and care for those in their lives.
Cardboard Confessionals - Breakout
Join us for a live look at the project, and how it was conducted, and work through the thoughts, dreams, aspirations, and challenges of those in attendance. We will be engaging in the same project that students did and diving into those answers!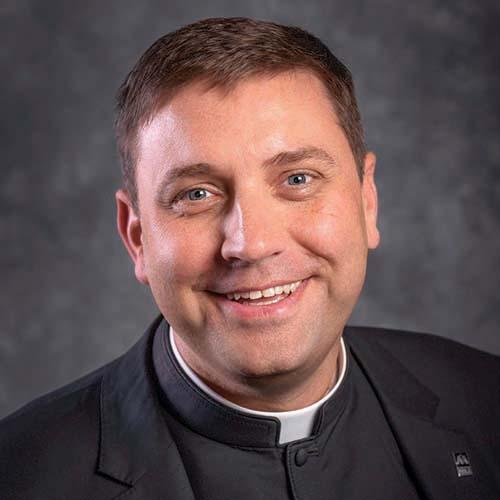 Monsignor James Patrick Shea serves as president of the University of Mary.
Monsignor Shea was inaugurated in 2009 as the sixth president of the university and, at the age of 34, became the youngest college or university president in the United States.
He succeeded the late Sister Thomas Welder, O.S.B., who had served as president for 31 years.
The oldest of eight children, Monsignor Shea grew up on a dairy and grain farm near Hazelton, North Dakota, just 38 miles from the University of Mary campus. He began his undergraduate work at Jamestown College, majoring in English and history. He then entered the seminary for the Diocese of Bismarck, earning a bachelor's degree and a pontifical master's degree (licentiate) in philosophy at the Catholic University of America in Washington, D.C. He studied classical Greek at the University of Texas at Austin and continued at the Vatican's North American College, studying theology at the Gregorian and Lateran universities in Rome. He has studied management at the University of Chicago's Graduate School of Business and is also an alumnus of the Institutes for Higher Education at the Graduate School of Education, Harvard University. Monsignor Shea has worked with Mother Teresa's Missionaries of Charity at the Gift of Peace AIDS Hospice while teaching religion at two inner-city elementary schools in Washington, D.C. In Rome, he served as chaplain for the Bambino Gesù Children's Hospital and also at the Rome campus of the Center for Catholic Studies at the University of Saint Thomas. Following his ordination to the priesthood in 2002, he returned to North Dakota and served as an associate pastor in Bismarck and Mandan. During that time, he was also the chaplain and an instructor at Saint Mary's Central High School in Bismarck. He then served as pastor to parishes in Killdeer and Halliday (North Dakota), while teaching at Trinity High School in Dickinson. Deeply committed to the education and formation of young people, he has been an inspirational teacher and mentor for many students.
Monsignor Shea is a Knight Commander of the Holy Sepulchre of Jerusalem and serves on the Board of Directors for FOCUS, the Fellowship of Catholic University Students. He has served on the National Advisory Council to the United States Conference of Catholic Bishops and the Governor's Commission on Education Improvement for the State of North Dakota. Monsignor is also a Trustee of Saint John Vianney Seminary in Denver and a member of the Executive Committee of the Board for the Association of Benedictine Colleges and Universities.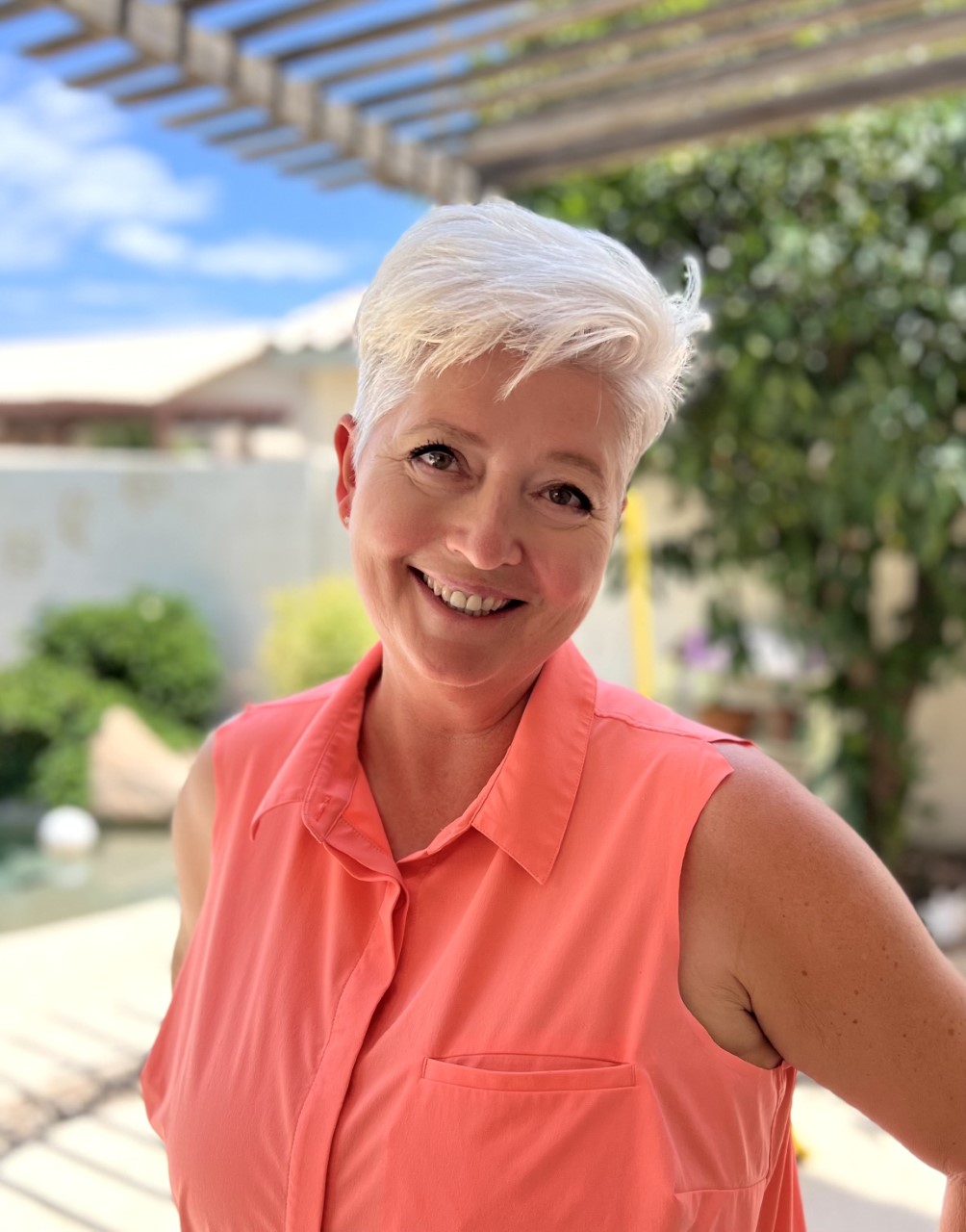 Jamie Valderrama is an Associate Teaching Professor and Undergraduate Coordinator at Arizona State University for the Integrative Health Initiative housed within the School of Social Work. Jamie is passionate about providing tools for responsive living via mindful practices and uses her extensive background in education to successfully integrate that knowledge within her courses as well as help both the community and ASU faculty integrate it into their coursework. Jamie currently teaches both undergraduate and graduate stress management courses, looking at the physiological and psychological responses to stress, neuroplasticity and ways to self-regulate through the lens of mindfulness. In addition to teaching and training, Jamie conducts keynotes and workshops on the personal and professional benefits of mindfulness, sits on ASU's Lifelong Learning Institute and Health and Wellness Committees and recently received the Arizona Behavioral Health Leadership in Service Award and ASU Apple Polisher Award for excellence in teaching. Jamie holds a B.S. in Biology Education and a M.A. in Interdisciplinary Studies with an emphasis on Integrative Health Modalities.
The Magic of Mindfulness: Becoming the Responsive Leader in Your Life - Keynote
Stress is increasingly gaining attention in the U.S. as well as around the world for the detrimental health effects it produces while mindfulness is gaining attention worldwide with the emergence of promising data showing how the simple act of being self-aware can deregulate the body's stress response - leading to a happier and healthier life. This presentation highlights the stress response physically and psychologically as well as applicable mindful practices to self-regulate our nervous systems when stressful triggers occur in our personal and professional lives.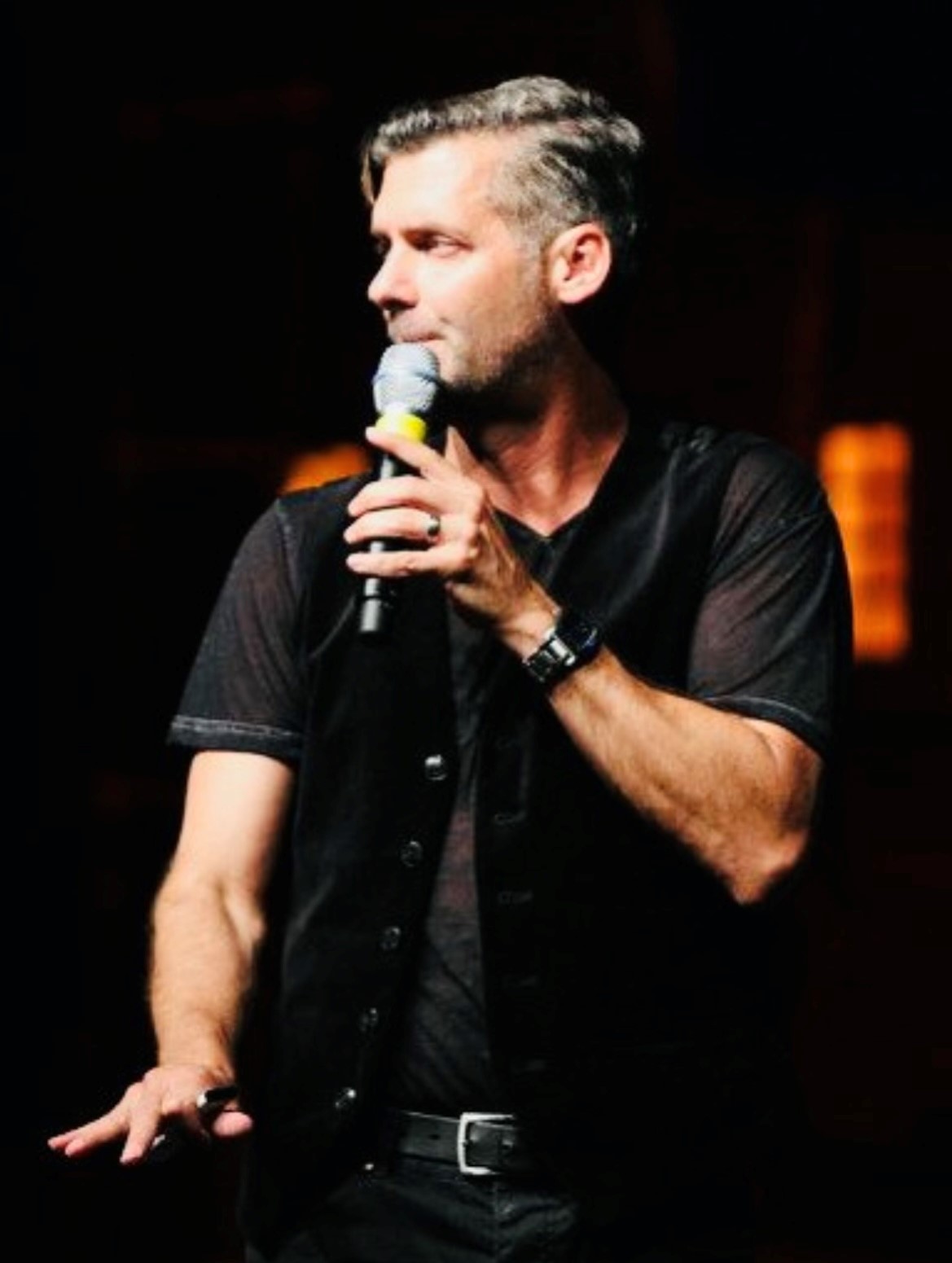 Eddie is a former "world class" runner and Gold Medal winner for the USA Track & Field Team. Eddie was 3-time Division 1 NCAA All-American and National cross country champion out of Loyola University in Chicago. Eddie was a former reporter in training at CNN before launching his own business.. Today Eddie is a highly sought after Speaker, Consultant & Author.
Eddie is known throughout the industry as a "Inspired Performance" Expert! His widely acclaimed "Four Minute Formula" has been utilized by people from all walks of life. Through years of training as an athlete and running his own successful speaking & consulting business, he knows what it takes to be elite. Eddie has always had the can-do spirit of an entrepreneur, in all walks of life. Best of all, Eddie can channel that sense of accomplishment through interactive storytelling and raw emotion to audiences everywhere. He can make you laugh, cry, dance and learn… all in one presentation. It's a rollercoaster journey like no other, and Eddie's been doing it for 3 decades!
Throughout all his many accomplishments, Eddie sought to enrich his life through service. He has volunteered extensively throughout Central America on month-long service trips, spent 4 years as a tutor for students from the Cabrini Green projects within the inner city of Chicago and has worked tirelessly for the homeless. Eddie widened his world-view beyond the life of sports and now as a husband and Father of 4, he proves that a successful balance of life and business can be attained.
Eddie speaks to tens of thousands of people year in and year out, utilizing a vast array of programs that are always customized to fit the needs of each audience. Whether it's for Fortune 500 companies, associations, Healthcare, Professional Athletes & Teams, Law Enforcement or Educational institutions all across the country, Eddie's personally devised programs are ever changing, keeping his message on the cutting edge for audiences everywhere. His extraordinary rate of repeat business is a testament to his versatile talent. The one constant through it all remains his high-energy message and interactive style. Eddie uses music, sound effects, dancing and audience interaction to bring his memorable presentations to life.
One thing is for sure: with Eddie Slowikowski, you'll learn how to energize your performance to get the very best out of your ability! His presentations are described as "An Experience" so contact Eddie for an "Experience" like none other!
Creating Inspired Performance from your TEAM
If you are working on something exciting that you really care about, you don't have to be pushed. The vision pulls you." This quote from Steve Jobs gets to the heart of innovation. Utilize your in-born gifts of imagination and creativity to build the ultimate peak performer. Internationally known speaker Eddie Slowikowski takes participants on the ride of a lifetime to discover the greatness that lies within all of us.
In his program, Inspired Performance, Eddie shows audiences how to transcend failure. Eddie relates how setbacks can set us up for future success. How we respond to "losing" shows us who we really are because, when the chips are down, your true character is revealed. Find the winner within through struggle and come out the other side to be a more well-rounded, battle-tested and mature person.
Inspired Performance takes things up a notch with high-energy audience interaction. Through hilarious and poignant storytelling, Eddie gets to the core of what it really means to dig deep and find "the real you." What makes you tick? Why do you act and react the way you do? How can you be more comfortable in your own skin? By questioning your actions and influences, you can discover the truth at the heart of your character. In the end, being the best version of you is all anyone can ask. And that's where true leadership begins.
Heidi
Nieuwsma, MSW, LCSW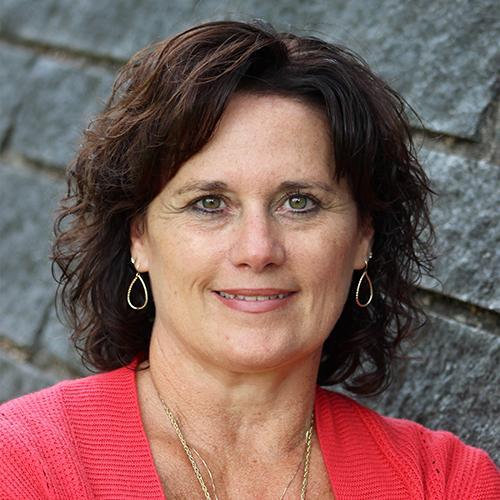 Chair of Behavioral Sciences, Director of Social Work Program, and Assistant Professor of Behavorial Sciences at the University of Mary.